You're locked out of your office or retail space. Someone lost the keys, or they are inside the building with no way to get in. What do you do? You call a commercial lockout service with plenty of experience and 24/7 service.
If you are locked out of commercial, storefront, office or any business lockout situation, contact 1 Response Locksmith right away at 305-675-1971 for immediate dispatch.
We offer 24/7 emergency locksmith services throughout Miami-Dade and surrounding areas. So, it doesn't matter if you need our services during the day, at night, on a weekend, or on a holiday. We will be there as soon as possible to get you into your commercial space.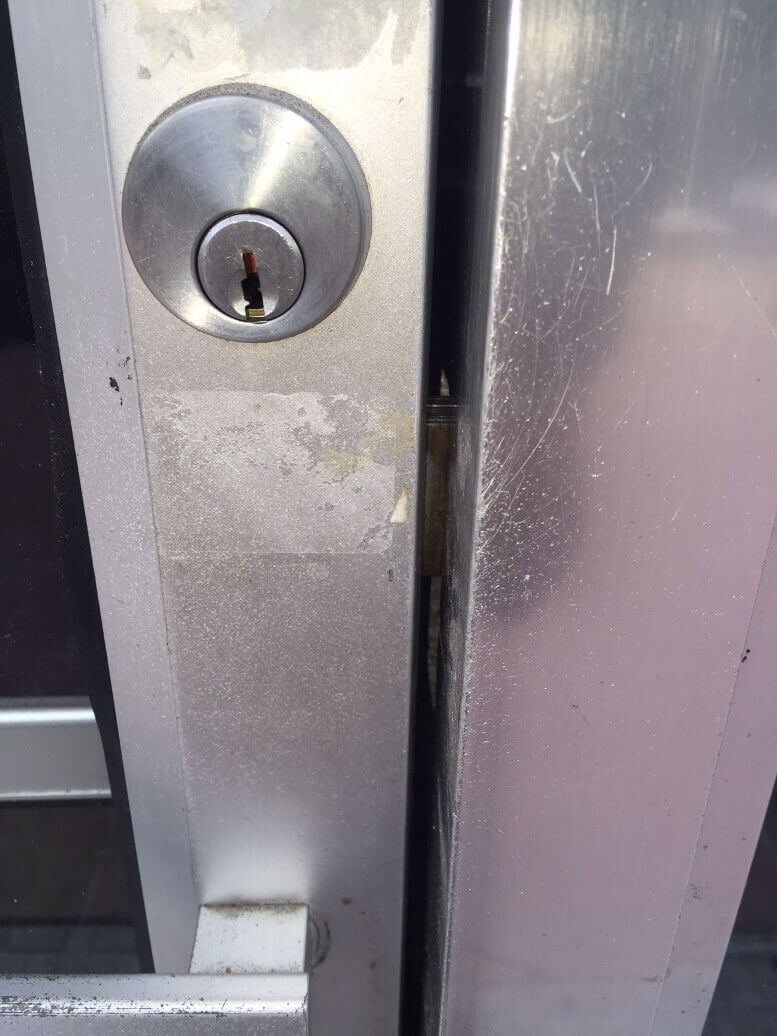 Why should you call 1 Response Locksmith? We've been doing this kind of work for over 15 years. Our locksmith team is fully licensed and insured to work in the state of Florida (#LK01080). We offer very fast, professional and affordable rates and quick service throughout the entire Miami-Dade area.
Let us show you why we are Miami's Fastest Locksmith by calling us when you need fast business lockout help the most, you will be happy you did.
PROFESSIONAL AFFORDABLE COMMERCIAL LOCKOUT SERVICE
One of the main reasons why business owners hesitate to call a locksmith is due to price. They don't know what the final number will be. Will it break the monthly budget?
With 1 Response Locksmith, you don't need to worry. We offer upfront pricing on all commercial locksmith services and have a service call charge of only $19. Beyond that you will know how much the final bill will be before we start whatever work you need completed. Our rates are very affordable, even for emergency building lockout services. Please feel free to call and ask for pricing up front.
When you call, just let us know where you need service and what kind of lock you have. One of our locksmiths will get started to your location right away. In many cases, we can arrive and get you in the building in just minutes. We can handle standard key locks, high-security technology locks, and every type in between.
Don't stand around waiting for someone to bring keys from across town. Just give us a call and let us get you inside the office. That way, your employees can get to work serving your customers and clients. Your lockout doesn't have to keep you from opening on time.
ANY COMMERCIAL LOCK YOU HAVE
We are ready to help you with any commercial lock you have. Most of our work is for entry doors, whether your main door or an employee entrance. However, we can work on any lock you have in your commercial space.
Our trucks come fully stocked with the equipment and tools to handle any lockout situation. Each of our locksmiths have the training, expertise, and experience to handle any commercial door lock, or other type of lock you may have. Just give us a call to get started.
Panic bars, mortise locks, rim locks, and commercial deadbolts are just a short list of the entry locks we can handle. We can also handle lockouts for mailboxes, safes, filing cabinets, and desks. If you have a lock you need to get through, we have everything we need to do the job.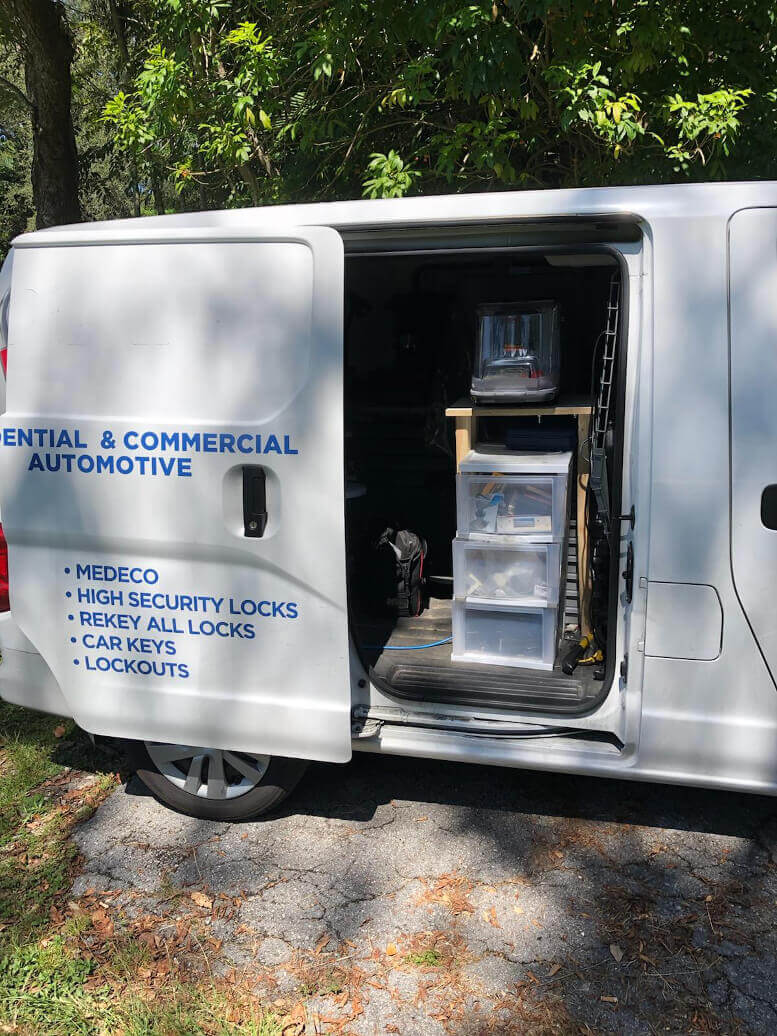 24/7 LOCKOUT SERVICE
Your employees start showing up at 6AM. It's 5:30 and you can't get in the building. Give us a call, and we will get to your location fast. In many cases, we can have the door open, before the first employee enters the parking lot. All you need to do is get the coffee brewing.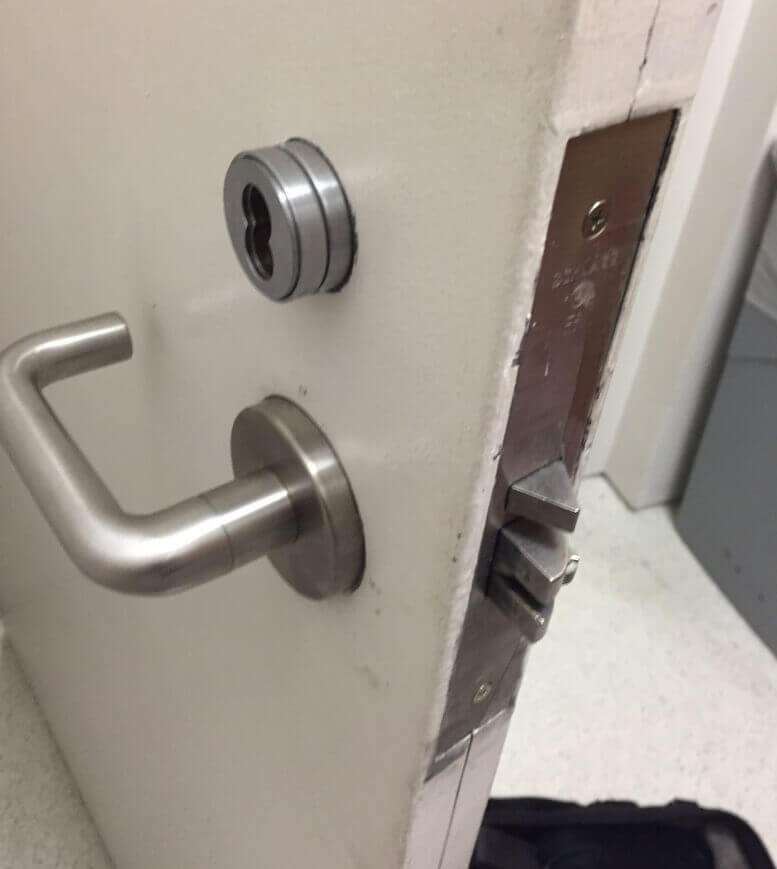 Do you open your doors weekends and holidays? No problem for us. We can handle your building lockout Saturday, Sunday, Christmas, 4th of July, or Easter. We always have someone on call, even in the dead of night over a holiday weekend.
If you find yourself locked out, the first priority is to find a safe spot to wait. It could be your car or a nearby business. Then, call us. We will arrive in a fully marked service truck, so you know who we are. Our technicians will do the work quickly so you can get inside safe and sound.
Don't hesitate to call when you need a commercial lockout service. We are just a phone call away.
FULL SERVICE LOCKSMITH
Once we get you inside the building, it's time to take the next step. If you lost the keys, we can get you a duplicate set made immediately. However, it is a good time to rekey the entry locks to make sure someone doesn't use the lost keys to break in. We can do the work quickly, without interfering with your employees or customers.
Our locksmith can also give you options for avoiding this situation in the future. We can recommend upgrades such as:
Scanner locks that use fingerprints or retina scans
Key card locks with each employee having an individual card
Keyless entry systems that use security codes
Our company offers a wide range of lock solutions to fit your commercial needs. While we are always ready to help you in a building or office lockout situation, we also want to help you avoid these situations if possible. Let one of our locksmith experts help you find the ideal solution.
1 Response Locksmith is a family owned and operated company. We have been serving Miami, Coral Gables, South Beach, Cutler Bay, Westchester, Doral, Homestead and all Miami-Dade County businesses and residents for over 15 years. We offer friendly, professional service at affordable prices.
If you need the services of a professional locksmith company, call us at (305) 675-1971 today. We handle commercial lockouts and much more.
Asking If There is a Locksmith Near Me?
1 Response is a 24 hour locksmith available anywhere in Miami-Dade County.
1 Response Locksmith is Miami's leading Residential, Automotive, and Commercial Locksmith installation and repair contractor. We provide you with safe, reliable, clean and licensed professionals that get the job done right the first time out.
We proudly serve all of the greater Miami-Dade area. Including Downtown Miami and the communities of Miami Beach, Coral Gables, Kendall, Cutler Bay, Brickell, Doral, Coconut Grove, South Miami, Key Biscayne, Homestead and all the surrounding areas.
Hollywood Locksmith
Brickell Locksmith
Aventura Locksmith
North Miami Locksmith
Miami Shores Locksmith
Miami Gardens Locksmith
Downtown Miami Locksmith
Hialeah Locksmith
North Bay Village Locksmith
Surfside Locksmith
North Miami Beach Locksmith
Sunny Isles Locksmith
Edgewater Locksmith
Key Biscayne Locksmith
South Miami Locksmith
West Miami Locksmith
Wynwood Locksmith
Pinecrest Locksmith
© 2014-2023 24LocksmithMiami.com
– All rights reserved. –
Content on website may not be re-used without written consent from 1 Response Locksmith in Miami, Florida.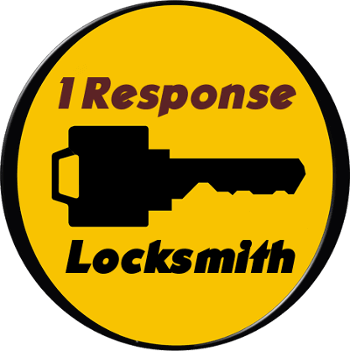 Monday-Sunday: Open 24 Hours
24/7 Emergency Services Always Available
Miami-Dade Florida Licensed Locksmith
Locksmith License #LK01080
We are happy to provide locksmith services to Miami, FL and the surrounding areas of Miami Dade County.